A fire sprinkler head guard is a metal wire device fitted over a fire sprinkler head to protect it from impact or mechanical injury caused by hits from objects like flying balls, forklifts, ladders, or even vandals.
Such impacts may happen during normal operations like warehouse forklift activities, playing in indoor arenas, and building renovations.
Vandalism is a common phenomenon where fire sprinklers are installed, especially those that project from the ceiling or walls. Sometimes, people may destroy fire sprinkler heads out of sheer curiosity or misinformed exploration.
A fire sprinkler head guard is also called a sprinkler cage or sprinkler head cage.
Most fire sprinkler protective head guards attach to sprinklers with 3/4″ and 1/2″ connection threads. Some attach to the pipes, beams, and even fittings. Others work with sprinklers from different brands in different sizes.
The fire sprinkler cage protects the sprinkler head from light or hard hits to prevent potential damage to the head or an accidental activation/discharge in some cases.
Sprinkler head guards must be installed so they do not interfere with the sprinkler's normal operation or spray pattern. The head must be triggered or activated as required in the event of a fire and must dispense water without distractions.
Where Are Fire Sprinkler Head Guards Installed?
Fire sprinkler head cages are recommended for all fire sprinklers installed in hotels, schools, commercial office buildings, event centers, storage facilities or warehouses, and residential property.
These places have high risks of fire sprinkler system disruptions caused by the many people in them or the many daily activities.
Fire sprinkler head guards are ideal for places with low headroom or clearance, such as basements and stairwells. They are critical where the space between the fire system and the floor is less than 2.4 meters.
Fire sprinkler heads in such systems are at higher risk of mechanical injury or potential damage from normal operations and vandalism.
Types of Fire Sprinkler Head Guards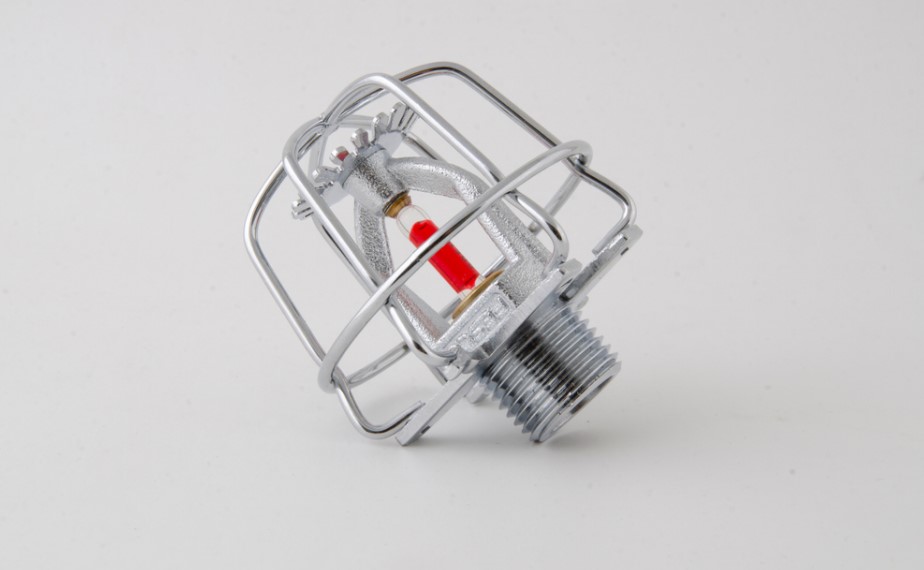 The type of fire sprinkler head cage depends on the manufacturer, protection capacity, and the type of fire sprinkler head it serves.
Manufacturer-specific Sprinkler Head Guards
Manufacturer-specific sprinkler head guards work with the manufacturer's specific fire sprinkler system. These are usually the required industry standard by the NFPA (National Fire Protection Association) or the local or municipal fire services.
Some manufacturer-specific head guard companies include RASCO, Victaulic, Tyco, and Viking.
The NFPA or other applicable fire safety body in your locality may also require the installation of "listed" head guards, which are sprinkler-specific and only used with the automatic sprinkler system they are attached to.
Generic Fire Sprinkler Head Guards
Generic fire sprinkler head guards work with multiple fire sprinkler systems from different brands. They are not made by any of the leading fire sprinkler manufacturers.
A generic head guard may be listed or not, depending on the manufacturer. Some manage to have their guards listed to be used with sprinkler systems from specific brands.
Manufacturers of generic head guards make them in two variations—standard and heavy-duty head guards.
Standard sprinkler head guards are compatible with most types of fire sprinkler systems. They protect non-recessed horizontal sidewall, upright, or pendant fire sprinklers whose frame bases are level with the escutcheon or disc surrounding them.
A standard fire sprinkler head guard may also be installed on a recessed sprinkler, where it carries the name "recessed fire sprinkler head guard".
The extended base of a recessed head guard grips the connection thread of the recessed sprinkler, whose slightly indented escutcheon makes the base for the sprinkler frame not level with the ceiling.
You can retrofit a standard head guard or attach it during the main installation to protect the heads from limited force or light contact.
Heavy-duty fire sprinkler head guards offer heads more protection in locations with a higher risk of collisions from fast-moving objects, heavy objects, or where it can be pretty expensive to repair or replace a broken fire sprinkler head.
A heavy-duty head guard is larger than a standard guard and is made with tougher steel to protect the head from hard hits.
References: